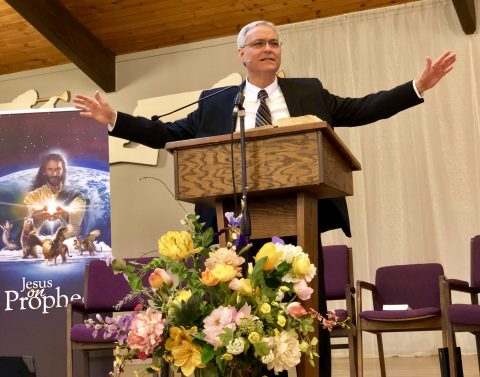 ---
by Darryl Bentley || May 3, 2019
---
Enthusiasm was high as nearly 400 members from across the lower peninsula gathered for soul-winning training and encouragement. The day was filled with thought-provoking inspiration from the very outset.  
For Sabbath school, attendees were able to dig deeper into the cycle of evangelism with pastors Mark Howard, Kameron Devasher, Kamil Metz and Wes Peppers, while our Michigan Conference Secretary, Elder Justin Ringstaff, moderated the discussion. The pastoral panel gave simple, practical examples of how each church will find greater success in their overall soul- winning efforts if they will follow Jesus' model of evangelism and include all parts of the cycle.
Jesus' model includes planning for and conducting events in the local church that serve to break up the "soil" of the heart, "plant seeds" about the great gospel message we are commissioned by Jesus to give, "cultivate" that which was planted through sharing the truths from the Word of God, "harvesting" those whose seeds have sprung up and led them to a decision to follow Christ, and then "preserving" those that are harvested through intentional discipleship. Many were also excited to learn better how to utilize two powerful resources for discipleship first developed here in the Michigan Conference: The Discipleship Handbook and Mentor's Guide.
Sabbath school members were also blessed by a powerful missionary story shared by Pastor Garhett Morgan of the Big Rapids, Bristol, and Reed City Churches. Pastor Morgan shared how Dustin Ripley, a young man in his area, came to Christ through evangelistic meetings. Not only did Dustin make his decision to follow Jesus, but within the following years his wife and other family members also came to Christ. Pastor Morgan observed that "When you look at it, the entire family really came to Jesus through Unlock Revelation."
The blessings continued as the worship service began. From the moving offertory sung by Marion Peppers to the challenge to both give and live as a missionary by Elder Devasher, everything leading up to the message of the day was a tremendous blessing. Elder Devasher shared that during the Depression era the average Seventh-day Adventist member gave over $6 to missions for every $10 they returned in tithe. He also told us that in modern times that number has slipped to an abysmal $0.39 for missions per $10 returned in tithe.  "Now is the time for missionary giving and missionary living" said Elder Devasher as he encouraged each one to do their part to adopt this mentality in their own lives and churches.
Michigan Conference Literature Ministries director and Pastor of the Williamston Church, Kamil Metz, interviewed Mike Lumbert about his journey into Adventism. Mike, a long-time Baptist, was somewhat disillusioned with religion and slipped away from God for about five years. But through the evangelistic efforts and love from the handful of members at the Williamston Church, Mike and his wife, Tammie, made their decisions to follow Jesus and the three angels' messages and are now active members in their local church.
As it came time to hear the message of the day, Michigan Conference president, Elder James Micheff, Jr., delivered a message entitled "Connecting to Gospel Power" that served to bring all the efforts of the morning into one, grand crescendo by both reminding and challenging each one to realize that when we "surrender the will to God, He sanctifies the effort for a holy purpose." Elder Micheff went on to say that "We cannot measure ourselves against each other, but only against God." He said that when we do so we can then sense our true need of Jesus.  
Perhaps one of the most profound thoughts of the message was in how Elder Micheff walked the congregation through character development. He said that our character can really be traced back to a single thought, and those single thoughts that are exercised over and over become habits that are manifested in character traits. Lastly, he appealed to those attending to respond to God's message of full surrender to Jesus Christ and several hundred came forward in rededication and response to the call.
The day ended with additional training conducted by pastors Wes Peppers, Mark Howard, and Kameron Devasher that warned attendees about common pitfalls during the meetings and how to really make use of all the resources that are being made available. The atmosphere as each one left was one of deep enthusiasm and excitement about what the Lord will do through our collective harvest evangelism efforts and the outpouring of the Holy Spirit.