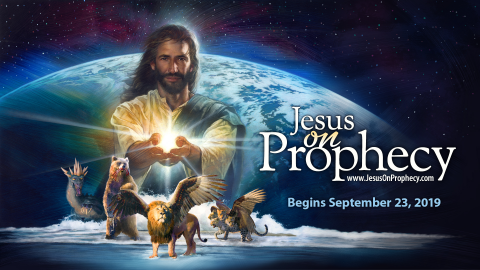 ---
Upper Peninsula Jesus on Prophecy Rally & Training
May 3-5
---
Is your church participating in Jesus on Prophecy, the Conference-wide evangelistic effort beginning September 23? Or, are you interested in participating? We invite you to attend a special training and resource weekend that will give you the inspiration and tools to prepare you and your church for an inspiring harvest. 
The Jesus on Prophecy Upper Peninsula rally and training will be held May 1-3 at beautiful Camp Sagola, Crystal Falls, MI. The weekend will begin Friday evening and end Sunday morning before noon. To register for housing for the weekend, call 906-875-4203 or 906-250-2980
Who should attend?
Church Elders
Personal Ministries directors/team members 
Departmental Directors
Members planning to help with the meetings 
Every Member - bring the whole church! 
Guest Speakers Include:
Royce Snyman - MI Conference Ministerial Director
Wes Peppers - MI Conference Evangelism Coordinator
Kamil Metz - MI Conference Publishing Director
Vicki Griffin - MI Conference Balanced Living Director
---
Weekend Schedule: 
---
Friday
6:50pm-8:30pm
Song Service
Welcome, Prayer, Announcements 
Opening Song 
Jesus on Prophecy Feature
Special Testimony 
Prayer Time 
Scripture Reading 
Special Music 
Message 
Closing Song 
---
Sabbath School
9:30-10:45am
Song Service
Welcome & Prayer
Testimony – Local Pastor (5 min)
Jesus on Prophecy Feature 
SS Panel - Five Essentials to Prepare Your Church for JoP (57 min)
---
10:45am -Break
---
Divine Worship
11:00am -12:30pm
Congregational Hymn 
Invocation 
Welcome & Announcements 
Opening Hymn - #202, Hail Him the King of Glory 
Public Evangelism Testimony 
Jesus on Prophecy Literature Feature 
Offering 
Scripture Reading 
Prayer 
Special Music 
Message – Adventist Culture or Adventist Faith 
Closing Hymn 
Announcements 
---
12:30pm – Lunch
---
Sabbath Afternoon
| | | | |
| --- | --- | --- | --- |
| Time | Segment | Meeting | Presenter |
| 2:00-2:05 | 1 | Hymn & Welcome  | Jim Nephew |
| 2:05-2:35 | 2 | Power Planting for JoP | Kamil Metz |
| 2:35-3:05 | 3 | JoP Personal Soul-winning/Resources | Wes Peppers |
| 3:05-3:35 | 4 | JoP Blended Message Health Presentations | Vicki Griffin |
| 3:35-4:05 | 5 | Preserving the Harvest through Discipleship | Royce Snyman |
4:30-5:30 – Free Time
5:30-7:00pm - Supper
---
Saturday Night
6:50pm-8:30pm
Song Service
Welcome & Announcements 
Invocation/Opening Prayer
Opening Hymn 
Jesus on Prophecy Feature 
Special Testimony 
Offering 
Prayer 
Scripture Reading 
Special Music 
Message – "Christ Our Righteousness" 
Closing Song & Announcements 
---
Sunday Morning Training
9:00-11:30am
| | | | |
| --- | --- | --- | --- |
| Time | Segment | Meeting | Presenter |
| 9:00-9:05 | 1 | Hymn & Welcome | Jim Nephew |
| 9:05-9:20 | 2 | Devotional | Kamil Metz |
| 9:20-9:30 | 3 | Season of Prayer | Jim Nephew |
| 9:30-10:30 | 4 | JoP Coordinator/Assistant/Helper Training | Wes Peppers |
| 10:30-11:00 | 5 | Jesus on Prophecy Website Training | Wes Peppers |
| 11:00-11:30 | 6 | JoP Evangelistic Visitation Strategy | Wes Peppers |
| 11:30 | 7 | Final Charge & Dedication Prayer | Wes Peppers |