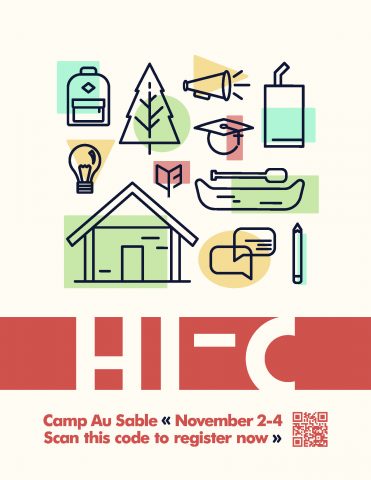 The Youth Department & CAMPUS are excited to introduce a new approach to Public Hi-C at Camp Au Sable!
---
Dates: Nov. 2-4
Deadline to register: Oct. 25
Cost: $60/person 
---
Over the years, Public Hi-C has served as a joint effort between our two departments. Our average attendance has maxed out our facilities at Camp Au Sable that includes public high school and college students from all over Michigan and beyond. Additionally, it has ministered to hundreds of classmates and friends who are not Seventh-day Adventists that desire a closer relationship with God at this spiritual retreat. 
This year's focus and theme is: Fieldwork
Our renewed purpose is training Public Hi-C students to know and meet the needs of their respective communities through Christ's method of ministry and service. To accomplish this, we have made the difficult decision to cap our registration at 200 and to limit the number of attendees outside of our target audience (those that attend non-Adventist schools). Consequently, Adventist students are encouraged to bring their classmates and friends with high spiritual interest!
Please remember that high school students must come with a chaperone of the same gender. The chaperone must complete the registration process for high school students and be responsible for them throughout the retreat. 
We encourage you to pray for this very important training and evangelistic event and to register your young people and their friends as soon as possible. We expect it to fill up quickly!
If you have any questions, please contact Miranda Lentz: mirandalentz16@gmail.com or you may call her at 989-820-1830. 
------------------------------------
Yours in Christ, 
Pastors Chad Bernard & Israel Ramos