Lansing Church: Crossroads Conference
What should be our focus at this time in earth's history? 
March 9, 2022 |  Judy Klein | Communication
PC: Andy Im

COVID-19 is not the only pandemic. Last year, 650,000 people died from heart disease and 602,000 people died from cancer. $580 billion was spent on medications that treat the symptoms but fail to treat the disease. Some estimate that within two decades, 95% of all Americans will be overweight. You never know how important your health is until you lose it. Sudden death is often the first symptom of heart disease. 
Alarming health statistics are not our world's sole concerns. Crime, poverty, racial injustices, political tensions: these are just a few of the world's problems. It's no wonder that many are left with a hopeless view of the future. 
In response to the turmoil and uncertainty that many are facing today, Crossroads was created. Crossroads is an eight-week conference, combining health and Bible prophecy, that ensures a unique opportunity many in our communities.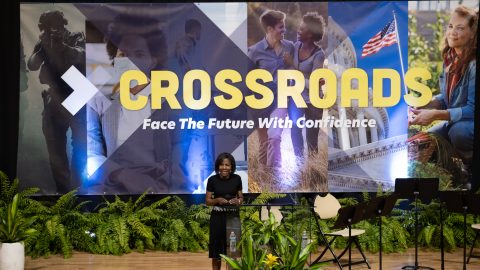 On March 8, the event kicked off with Dr. Lindy Schwartz, who shared that what we eat has a direct link to our health, including heart disease and diabetes. Schwartz is an engaging presenter and captivated the audience of 130 people. The conference is taking place at the Lansing Seventh Day Adventist Church, located on St Joe Hwy, and continues every Tuesday, Thursday, and Saturday, from 6:30-8:00 PM, and will end April 23. 
The Crossroads conference began years ago as an idea in the minds of Dr. Kimberly Azelton, who runs the Lansing Family and Lifestyle Medicine Clinic, and Pastor Phil Mills, pastor of the Lansing Seventh Day Adventist Church. Mills explains that medical missionary work is a "calling I have felt in my life since I was 17." 
When Mills and his wife, Lindsey, moved to the area, they felt convicted that this work was to take place in Lansing. Azelton expressed similar thoughts, saying that she has been experimenting with similar programs since her college years, back in 2011. "I really felt called to do something," she says, "where we meet both the physical and spiritual needs of the community."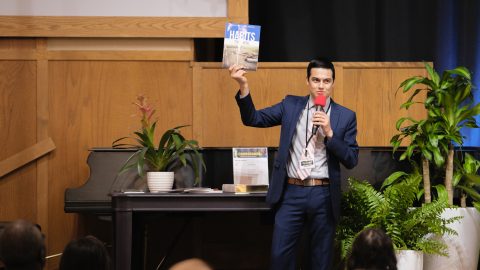 Azelton believes that in order to be healthy physically, there is a connection between your spiritual health also. That's why Crossroads is somewhat unique: it combines Bible prophecy and physical restoration. Tuesday and Thursday nights focus primarily on health, while Saturday nights focus on gripping questions, like, "Do I have a future on an earth rocked with sin?" 
However, the health meetings are not limited to health. "There will be clear tie-overs to the health area and the spiritual areas," says Mills. They plan to do this using a "What's the Connection" moment during the meeting. During this time, the connections between health and spirituality will be explained, says Azelton and Mills. 
Another unique aspect of Crossroads is the big meeting, small meeting approach. "Tyndale used this approach," says Mills. The "big meetings are feeders into the smaller meetings where we can connect with people." 
Usually, when a church conducts evangelistic campaigns, they only meet during the big meetings, but for Crossroads, there are numerous other small meetings going on on the days when there are not large meetings. For example, Renove´ health, Financial Peace University, Digging Deeper, and fitness coaching. 
Each of these are meant to address specific needs of the guest, whether it's managing finances, digging deeper into the Word, or becoming healthier. The smaller breakout sessions are important because these sessions are truly where friendships are made. In addition, Mills explains that more decisions are made in smaller meetings than large ones. 
Renove´ health, a program conducted by Dr. Azelton, is an eight-week program designed to lower blood pressure, blood sugar, high cholesterol, and other significant lifestyle diseases. However, it is important to note that it is not an eight-week diet, but rather, an eight-week physician guided transition to a healthier lifestyle.
One of Dr. Azelton's patients, who wishes to remain anonymous, commented that Azelton's program has been a success for him. "I officially started the diet and exercise routine the morning of March 3rd. Here it is, the morning of March 9th, and I have lost 8.2 lbs," the patient says, "I have been on multiple diets and exercise plans with limited success. This is the first time I have been wildly successful with any diet and exercise plan." 
Attendees of Renove´ health are provided an exercise partner or a cooking partner, and a visit from a Crosstrainer, a student that has dedicated one of year of their life to medical missionary work. The Crosstrainers work closely with Azelton and her clinic to help patients change their unhealthy lifestyle. 
The clinic is not an independent entity, Azelton explains, it is a tool she is using, with the church members help, to reach the community. 
Azelton has also been using her clinic to point patients to Crossroads. She is optimistic that Crossroads and its blended ministry of health and prophecy are going to do wonderful things. "We've already seen from [previous] Renove´ [programs] … that when people's health starts to improve they see that they have to have a power outside of themselves to accomplish that. Seeing that [change] opens their minds to the gospel."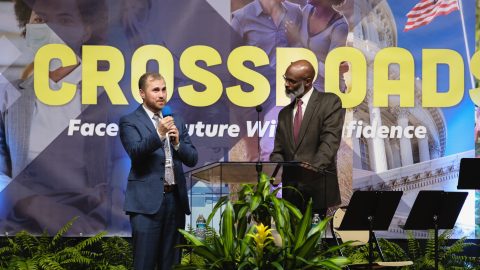 The Crossroads conference was launched on March 8 with 130 people, and 41 were guests. Mills comments that "to have 41 coming after a pandemic is very good." 
Crossroad speakers include: Dr. George E. Guthrie, Dr. Lindy Schwartz, Dr. Eric Nelson, Vicki Griffin, Jeremy Hall, and others. Each of these speakers has a passion for both health ministry and evangelism, and when Dr. Azelton told them that Crossroads was an experiment combining gospel and medical evangelism, they were thrilled. 
While some may consider Crossroads an experiment, Azelton and Phil would disagree. Crossroads is a "scratching of the surface," according to Azelton, of what the pioneers used to do. Ellen White instructed them to go into cities and mix medical missionary work with evangelism. In addition, small groups played a significant role in the conversion of many. The small break out sessions like Renove´ or having a fitness coach are the small groups of this program. There are also eleven different small groups within the Lansing Seventh Day Adventist church to which guests have access. 
Pray for Crossroads as the guests interact with church members, both in the meetings and the break-out sessions. Pray that God will bless, as he blessed the pioneers in the early days of Adventism. 
For more information, or for registration, visit the Crossroads website.