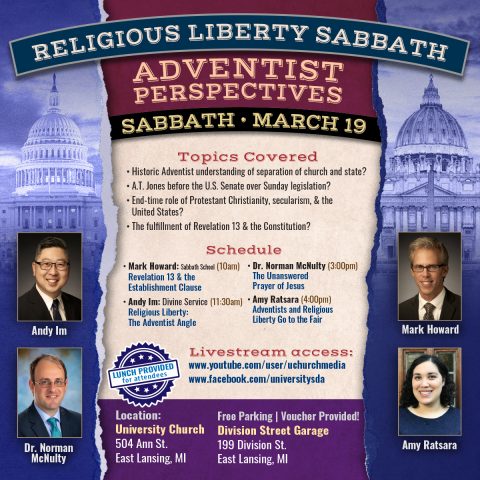 ---
Religious Liberty: Adventist Perspectives
---
Join us in-person or by livestream on Sabbath, March 19. Attorney Amy Ratsara, Dr. Norman McNulty, Pastor Mark Howard, and Pastor Andy Im will be presenting on religious liberty themes. You won't want to miss it! Free parking is available for attendees with voucher provided by the University Church. A light lunch will also be served for the event. 
WHEN: Sabbath, March 19 (Event begins 10AM)
WHERE: UChurch, 504 Ann St, E Lansing, MI
FREE PARKING (Voucher Provided): Division St Garage, 199 Division St, E Lansing, MI 48823 
LIVESTREAM ACCESS: YouTube | Facebook
Sabbath: March 19
10:00AM  Mark Howard: "Revelation 13 & the Establishment Clause"
11:30AM  Andy Im: "Religious Liberty: The Adventist Angle"
03:00PM  Dr Norman McNulty: "The Unanswered Prayer of Jesus"
04:00PM  Amy Ratsara: "Adventists & Religious Liberty Go to the Fair"
[Panel Discussion: Time Permitting]