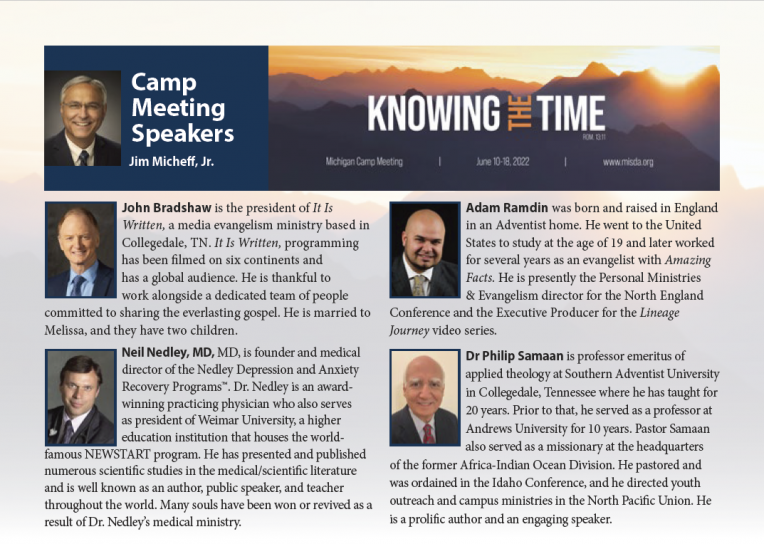 ---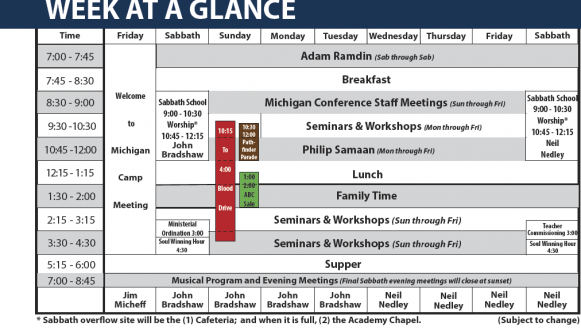 ---

Register for Camp Meeting Fun Run
April 14. Join us for the annual Camp Meeting Fun Run for healthy exercise, wonderful fellowship, and to support a great cause! Registration fees and donations will go towards the GLAA Worthy Student Fund to help students afford a life-changing, Adventist educational experience! Register for the Fun Run by May 23 to receive your memorabilia t-shirt! 
---
Donate Supplies for Flood Victims @ Camp Meeting
April 14. Donate materials such as scouring pads, cleaning liquids, latex gloves, soaps, and more for flood victims!
---
Camp Meeting Paid Janitors Needed
April 14. Help clean the restrooms during camp meeting from June 10-18. Applicants must be 14 yrs+, with confirmed lodging and a completed employment application. 
---
Register Online OR By Mail (Registration Now CLOSED)
March 1. Registration begins March 1 and will close March 15. The registration packet is included in the March edition of the Michigan Memo. You may also print out a copy and register via mail or register online by accessing the button below. 
---
Purchase Camp Meeting Meal Tickets: May 1-15
March 1. Online purchases for meal tickets will be made available from May 1-15. You may purchase your meal tickets by clicking the link below.