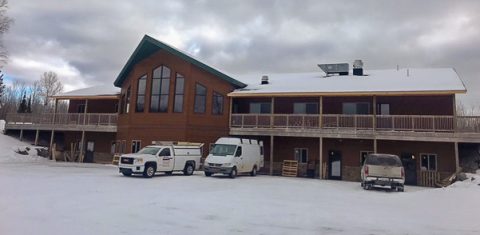 Dear Friends,
I am happy to inform you that work on the Camp Sagola Lodge is underway. Work began in December of 2020 and is scheduled to be completed by the end of April. The scope of the work includes: completely finishing the basement, as well as building the porch over the deck on the back side of the lodge, and completing the landscaping and parking lot in front of the lodge.
The basement layout includes: 4 large seminar/conference rooms, 6 bedrooms with bathrooms, 2 rooms for nurses station, and men's and women's bathrooms with showers.
The current status of the project is as follows:
Concrete floor prep work is complete

All interior walls have been built and installed

Heating and duct work is complete

Rough in electrical is complete 

Rough in plumbing is complete

Showers are installed

Fire suppressant sprinklers have been adjusted in bathrooms. The others sprinklers will be adjusted as the drop ceiling is being installed

Drywall installation is underway

The porch on the back side of the lodge has been built, Facia and soffit installed, ice and water shield installed, shingles will be installed as weather permits 
We are so thankful for the donations that have come in to make this project possible thus far. We are still needing $80,000 to complete the job.
Having the basement finished will be such a blessing for current programing that takes place, such as Spring Retreat, Summer Camp, Camp Meeting, etc. In addition to this, it will provide Camp Sagola with additional accommodations, which will open up many more opportunities for service. Thank you for your interest and prayers as we look to the completion of this project. I have attached a few pictures (below) of the progress.
Blessings,
Pastor Tom Hubbard
Camp Sagola Building Committee Chairman
---
How to Donate
If you would like to contribute towards the Camp Sagola Project and make it a blessing for all to share, make your gift payable to the Michigan Conference of SDA and write "Camp Sagola Lodge" in the memo and send to:
Office of Treasury
Michigan Conference
5801 W Michigan Ave
Lansing, MI 48917
Please email communication@misda.org for any questions you may have. 
---