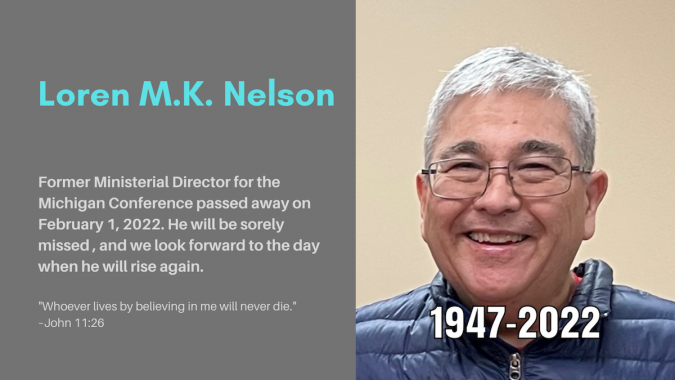 ---
"He was a loving husband, father, Papa, grandpa, uncle, brother, and [someone] who brought people to Jesus—more than we will ever know."
---
Loren M.K. Nelson, former ministerial director of the Michigan Conference, passed to his rest on February 1, 2022. He was 74 years old. Nelson was widely known and appreciated by Michigan ministers as the quintessential pastor to pastors. He mentored and trained many that also included Bible workers and ministry leaders over his long ministry service. As an evangelist, the Lord used Nelson to bring countless souls to Christ, and he had a story to tell for each one of them. His family, friends, ministry colleagues, church members, and the individuals baptized by his hands, will remember him for his thoughtful care and lovingkindness.
Elder Nelson began his ministry with the Oregon Conference where he served from 1971 – 1977. Upon accepting a call to serve with the New York Conference, he ministered there from 1977 – 1981 as lay activities and Sabbath School director, followed by several years with the Washington Conference, where he served from 1981 – 1984, in the same capacity. Prior to joining the Michigan Conference, Nelson worked with the Ohio Conference from 1985 – 1989 and served as assistant to the president and as executive secretary. 
Nelson is best known for his service as ministerial director for the Michigan Conference and worked in that capacity from 1991 – 2011, a span of 20 years. He also served as human resources director during his final years at the Conference office from 2011-2013. 
"Elder Nelson was known for his love for evangelism and discipleship," said Jim Micheff, Michigan Conference president. "Aided by his photographic memory he was a gifted student of Bible prophecy and at the same time had the ability to connect in a personal way, appealing to the hearts of his Bible study interests. He is deeply appreciated and loved in the Michigan Conference."
There are very few that were more passionate about winning souls into God's kingdom and equipping ministers to do the same, than Pastor Nelson. He always had a baptism story to share, and he took the time to get acquainted with individuals and their felt needs. One thing for sure, Nelson will be missed by many, and we await to see him once again at the second coming of Jesus.
Loren M.K. Nelson is survived by his wife, Linda; their son, Loren (wife Suzanne); daughter, Leslie (husband Matt); and several grandchildren. 
---
The following words were posted on Elder Nelson's Facebook page by his family.
---
It is with heavy hearts that this post is being made.
Loren M. K. Nelson passed away on February 1, at 11:15 am surrounded by his wife, daughter, son, their spouses and Pastor Sabino. He struggled for many days trying to get his strength up, but ran out of fight. Linda was able to have her bed wheeled into the room just in time for Dad to say "I love you and I'm sorry", then he drifted off. We all spoke with him during his last hour of life and he was responsive to our speech. Loren is now resting in peace as we all await the Second Coming of our Savior.
He was a loving husband, father, Papa, Grandpa, Uncle, brother and pastor who brought people to Jesus; more people than we will ever know. In heaven, there is going to be one awesome conversation between Jesus and Loren discussing all the people he brought to Christ. As one of his beloved grandchildren said, "Papa is going to have a lot of gems in his crown." Loren was quite the Disciple maker.
He published a book, created many outreach and discipleship materials that are used by local churches, Conferences, Unions and the General Conference. He mentored countless pastors, bible workers, lay pastors and youth ministry leaders. He always was looking for a way to reach the hearts of people for God. Loren was a part of starting Bible schools and Youth Movements. 
Loren was a fighter. He beat cancer, had multiple strokes, and almost drown in a surfing accident. He helped raise two crazy kids whose families all love Christ with all of their hearts. This is something he was very proud of. His son, following his footsteps, was one of his most heartfelt successes in life. His daughter was his pride and joy, he enjoyed working with her as she lead out in Pathfinders. Our children are our voice into the future, and both of his children have taken his voice and run with it.
This has been an emotional rollercoaster that none of us saw coming. Three weeks ago we were all enjoying life and making plans for the future. But Loren would want us to enjoy life, remember his love of Christ, and keep focused on the amazing gifts God has and continues to give us.
Now we are focusing on Linda, her Hydrocephalus, and 6-8 weeks in extensive rehab. This rehab facility is top notch and instantly took Linda in as family. We are hopeful she will make a speedy recovery.
We do not have a service date and time chosen for the funeral yet, but it will be posted here on facebook and we will do a live feed for everyone that is not able to attend in person.
We are very saddened, but thinking about the amazing amount of people Loren touched always gives us a smile.
Thank you all and God Bless each of you.