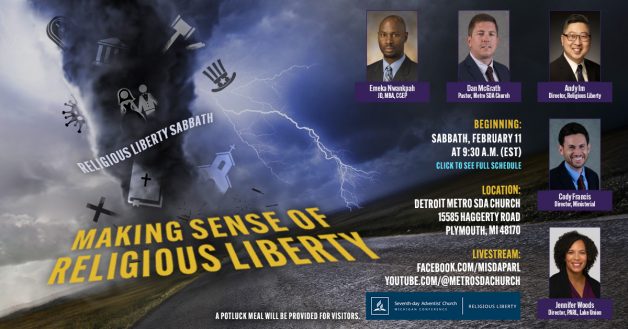 ---
Making Sense of Religious Liberty in Today's Climate
We invite you to join us for the following religious liberty event on Sabbath, February 11, in partnership with the Detroit Metro Church. Presenters include Public Affairs and Religious Liberty director for the Lake Union Conference, Jennifer Woods; Cody Francis, Ministerial director; and Religious Liberty director, Andy Im. A panel discussion will take place following the presentations, where we will discuss important religious liberty topics and questions. 
---
Location: Detroit Metro SDA Church, 15585 Haggerty Road, Plymouth, MI 48170
(Due to a recent flooding challenge, the event will take place in the school gym located adjacent to the church.)
LiveStream Options
---
SCHEDULE
---
Sabbath School (9:30 AM)
Presenter: Andy Im, Director, Religious Liberty
Theme: When the Lamblike Beast Speaks
Divine Service (10:45 AM)
Sermon: Jennifer Woods, Director, PARL, Lake Union 
Title: True Freedom
Scripture: John 8:31-36
Afternoon Presentation (3:00 PM)
Presenter: Cody Francis, Director, Ministerial
Theme: The Challenge of Liberty
While liberty is one of the most cherished rights of modern times, granting liberty has proven to be very difficult. How do we define liberty? Why has it been so challenging? How will the threat to liberty take place from a prophetic standpoint?
Panel Discussion (4:00 PM)
Panelists: Jennifer Woods, Cody Francis, Emeka Nwankpah, Dan McGrath, & Andy Im (moderator)
Theme: Religious Liberty: What's Important to Know?
---
Introducing Jennifer Gray Woods, Lake Union PARL Director
Jennifer previously served as associate legal counsel and associate director for the Public Affairs and Religious Liberty (PARL) Department of the General Conference. Jennifer received her biology degree from Oakwood College and her law degree from Harvard University. She also holds an M.P.H from Johns Hopkins. She recently accepted the call to serve as the PARL director for the Lake Union Conference and has been serving in that capacity from 2023.
---
** A potluck meal will be provided for guests.