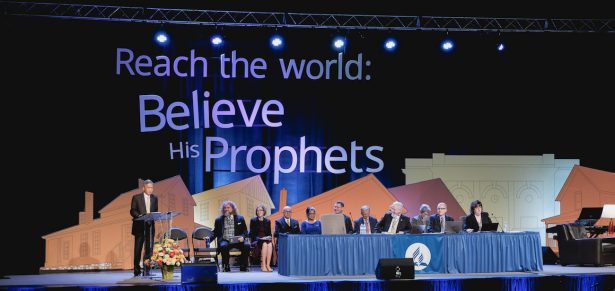 ---
by Daniel McGrath | Oct 14, 2018 | Battle Creek, Michigan
---
Today, the General Conference Executive Committee begins its meeting to discuss the various issues of the world church. Everyone is anticipating a vigorous discussion centered on the Unity Document dealing with non-compliance. Some wonder why the General Conference would spend so much time on policy issues instead of encouraging evangelistic endeavors. Let's consider the purpose of the Executive Committee and the work they are elected to do.
The Executive Committee is the delegated authority of the Seventh-day Adventist Church that meets between General Conference sessions. They are charged with the task of acting on behalf of the world to carry on the work. They meet twice every year.
Membership: The membership of this committee is made up of pastoral and lay representatives from every division of the world, including union presidents and presidents of many supporting ministries of the church. In this way the Executive Committee is a representative body and has authority to act on behalf of the world church.
Work: At the annual Spring Meeting the Executive Committee receives the audited financial reports and engages in regular business affecting the church. During the Annual Council, which occurs every fall, the Committee considers budget requests and makes plans to help the work of God around the world. In addition to regular business, the Annual Council can adopt policies that may be necessary to help further the worldwide mission of the church. Because they are acting on behalf of the world church, any policy that is adopted is binding for the entire field.
The Executive Committee's authority covers many areas. They have power to grant credentials and licenses to any minister or to withdraw them if there is cause to do so. They can review, change or create policies that affect the entire church body and approve any strategic plans and programs for the world church. If these plans require additional personnel to be executed effectively then the Committee is able to take care of that business as well. 
Individuals serving on the Committee sometimes may be called upon to effect retirement for elected individuals whose terms may not be finished if they become unable to perform their duties due to health conditions. They also have power to remove elected officials from office if there is cause to do so and the motion requires a two-thirds majority vote. 
The work of the Executive Committee is vitally important to the mission of the Seventh-day Adventist Church. Perhaps a reason why we have had such an impact around the world is because of our organizational process that keeps our worldwide church cohesive and united.
---
Daniel McGrath serves as pastor for the Sparta and Three Angels Fellowship Seventh-day Adventist churches. He is also a contributing writer for the Communication Department of the Michigan Conference.